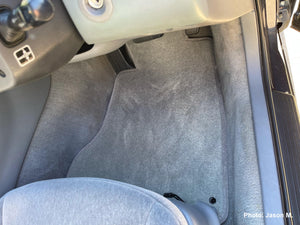 Finally some quality floor mats for the Z30 Toyota Soarer!
You spoke and we listened! We've been asked by many Soarer owners why we offer floor mats for the Lexus SC300/SC400 and not the Soarer? Well, the main reason was because Lloyd Mats did not have the Soarer floor pattern in their database and we could not order them.  
So we contacted Lloyd Mats and asked them if they we able to make us custom mats if we provided them the correct measurements and they were happy to make us custom mats. 
Luckily, we were able to find a local Soarer owner (Jackie V.) who kindly let us take some measurements of his OEM Soarer floor mats. After sending them templates off to Lloyd Mats we eagerly awaited to receive the prototype set. After we received the prototype set, we did a test fit in Jackie's Soarer and they were an amazing fit so we went ahead and ordered our first bulk shipment of Soarer floor mats. 
We will be offering these floor mats as a 2pc set, 4pc set, and will be offering the tunnel mat separately as an optional add-on. The colors available will be black, tan (taupe), and gray. 
---